More digital, flexible, and mobile. That's the world we live in.
Without physical borders and with an accelerated digitalization, Brazil becomes a heavyweight e-commerce contender in regional and global markets. In this landscape, the evolution of payment methods play a big role and help more people to fast customer journey and companies to expand their presente in this country.
Digital banks, e-wallets and now Pix are the new face of Brazilian financial services, accelerated by the digitalization during the pandemic that opened a lot of opportunities, and also changed how the public consume products and services over the internet.
With the growth of online activity, another subject comes to the table: Payouts in Brazil, payments made by companies to non-employees for services provided. This is becoming highly strategic to businesses, especially after 2020. The Whitepaper includes an analysis of market size and top segments, and explains how disbursement works and the opportunities that disruptive, fast cross-border solutions hold.
This industry report was developed by Americas Market Intelligence and commissioned by PagSeguro to understand the current status of those markets and the possible trends we can see in the next few years. In this content you will find:
How mobile is accelerating digital channels, especially retail as well as digital goods and services like delivery, gaming, streaming, and online education.
Which e-commerce payment methods have the greatest shares of transactions and which are growing the most between now and 2024.
How Pix is already impacting Brazilian e-commerce payments and what we can expect in the future as it grows in usage.
The size of Brazil's payouts market, including number of recipients, their earnings and how much disbursements will grow through 2024.
An analysis of local X cross border disbursement and split-payment X payout.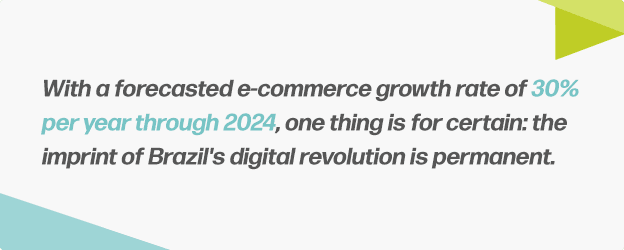 How is the market growing so fast? What is the impact of payout and new payment methods in Brazilians consumption choices in different sectors such as retail, travel and digital goods?
The answer remains in the understanding of cultural and technological advances, even though digital payments are the first choice of many customers, local payment and traditional methods, as boletos, will continue to be major.
Access this exclusive material and understand the current status of Brazilian markets and the possible trends we can see in the next few years.
About PagSeguro
PagSeguro (NYSE: PAGS) provides innovative payment solutions, automating payments, sales, and wire transfers to boost businesses anywhere, in a simple and secure way. Part of the UOL Group – the leader in Brazilian internet –, PagSeguro acts as an issuer, an acquirer, and a provider of digital accounts, besides offering complete solutions for online and in-person payments.
The company also has the most complete payment methods coverage in Brazil and 16 other Latin American countries, besides Portugal, Spain, Turkey, Greece, and Romania, allowing merchants worldwide to process and collect more than 140 local payment methods and local currencies. It also provides instant single or mass cross-border payouts to Brazil.
As a provider of payment solutions for foreign merchants, PagSeguro is well established as the market leader in the online gaming segment, processing local payments for more than 6,000 games, including giants Valve, Garena, EA, Xsolla, Ubisoft, and Wargaming.