The Latin American online gaming market generates over $ 8 billion in sales, with more than 316 million players and 200 million active paying gamers. How to reach them and access the region's rising segment? We asked real gamers to find out.
Download our newest white paper and discover how gamers in Latin America prefer to pay, what are their favorite types of purchase, the discount and purchase incentives they value the most, what leads them to abandon checkout, the differences in payment and purchasing habits for each gaming audience, the importance of localization, the rise of pay-to-earn, and so much more.
The white paper is also based on a survey run with over 2,200 gamers in Latin America's Top Six Markets: Brazil, Mexico, Colombia, Argentina, Chile, and Peru, combined with our almost two decades of experience in online gaming as the leading payment solution provider for the segment. The study is a partnership with PCMI - Payments and Commerce Market Intelligence, a division of AMI - Americas Market Intelligence.
Read it and find out all you need to know about the exciting and rising Latin American online gaming market.
Download our exclusive white paper and discover:
the payment methods gamers use and prefer for gaming-related purchases;
how much and when they spend on gaming;
the correlations between gaming platforms, average tickets, and payments;
what makes them abandon checkout;
what drives them to finish a purchase;
and more about Latam gamers' payment preferences and habits.
Dive into the study alongside our experts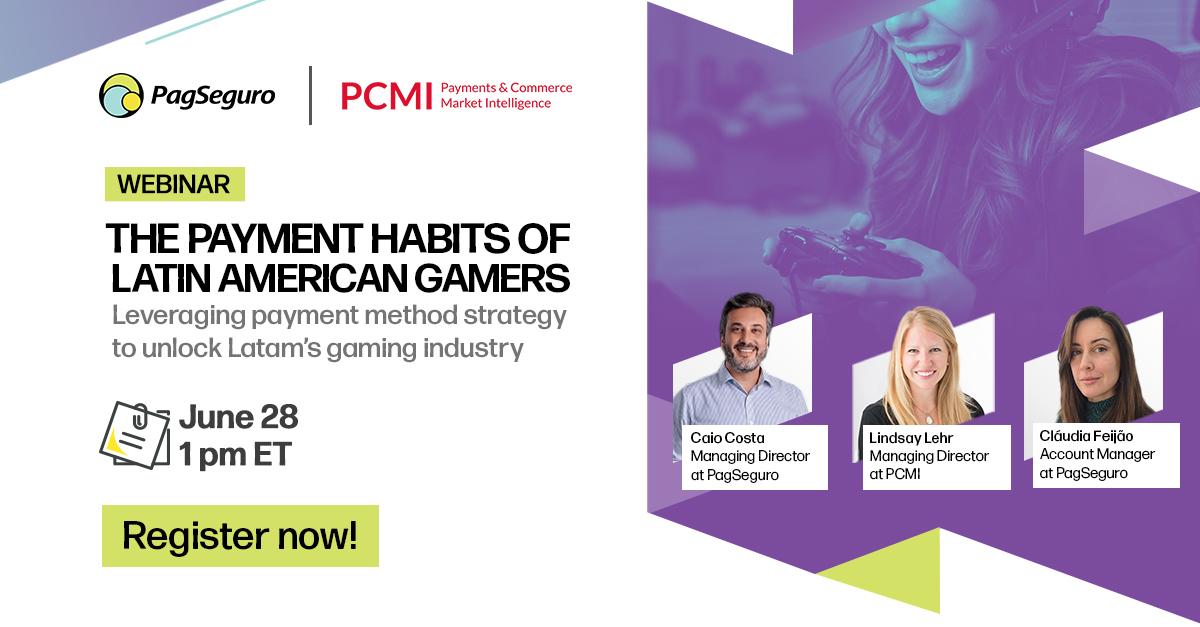 After enjoying your reading of the white paper, come join our exclusive webinar! On June 28th, at 1pm ET, our team of experts will dive into the main findings from the study.
The webinar will be presented by PagSeguro's Managing Director Caio Costa, our Account Manager Cláudia Feijão, and PCMI's Managing Director Lindsay Lehr. It will be a great opportunity for the audience to ask questions about the study and get even more insights on how to create the payment experience consumers really want and value.
Click here to register for the webinar!
About PagSeguro
PagSeguro (NYSE: PAGS) is PagBank's international division provides innovative payment solutions, automating payments, sales, and wire transfers to boost businesses anywhere, in a simple and secure way. Part of the UOL Group – the leader in Brazilian internet –, PagBank acts as an issuer, an acquirer, and a provider of digital accounts, besides offering complete solutions for online and in-person payments in Brazil and, through PagSeguro, in Brazil and 16 other Latin American countries, besides Portugal, Spain, Turkey, Greece, and Romania, allowing merchants worldwide to process and collect more than 140 local payment methods and local currencies. It also provides instant single or mass cross-border payouts to Brazil.
As a provider of payment solutions for foreign merchants, PagSeguro is well established as the market leader in the online gaming segment, processing local payments for more than 6,000 games, including giants Valve, Garena, EA, Xsolla, Ubisoft, and Wargaming.