Selling in a region that is home to so much diversity such as Latin America is not an easy task. However, for those who want to expand their business and start selling their products and services, understanding aspects such as language, cultural customs, as well as market behavior is essential.
That's why we prepared this e-book. By reading it, you will learn the following:
Why invest in Latin America?

What are the challenges?

How to start selling in the region?

And much more!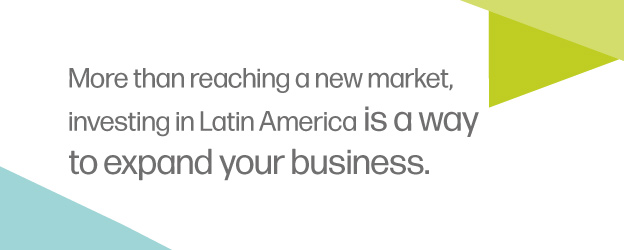 Accelerated pace of digitalization, rapid adaptation, innovative scenario and growing demand make Latin America a strong investment opportunity. If in the past the barriers of language, currency or culture made negotiations seem more difficult, the post-pandemic reveals strong changes for the continent. And most importantly, they are here to stay.
Latin American consumers already showed a growing participation in retail and digital goods, which has increased in the last two years. In addition, the types of products and services purchased online also expanded. In addition to entertainment, grocery, pharmacy, industry, health items and home office items also appear on the list.
While anything can be ordered in just a few clicks, projections for e-commerce growth reveal a CAGR of 31%, reaching US$ 611 billion in 2024, according to Americas Market Intelligence (AMI).
With such optimistic projections, the question remains: how to invest well in Latin America? What are the biggest challenges and opportunities of the present?
Check out this international selling guide we prepared in this e-book. Enjoy!
Access our exclusive material in the link below:
About PagSeguro
PagSeguro (NYSE: PAGS) provides innovative payment solutions, automating payments, sales, and wire transfers to boost businesses anywhere, in a simple and secure way. Part of the UOL Group – the leader in Brazilian internet –, PagSeguro acts as an issuer, an acquirer, and a provider of digital accounts, besides offering complete solutions for online and in-person payments.
The company also has the most complete payment methods coverage in Brazil and 16 other Latin American countries, besides Portugal, Spain, Turkey, Greece, and Romania, allowing merchants worldwide to process and collect more than 140 local payment methods and local currencies. It also provides instant single or mass cross-border payouts to Brazil.
As a provider of payment solutions for foreign merchants, PagSeguro is well established as the market leader in the online gaming segment, processing local payments for more than 6,000 games, including giants Valve, Garena, EA, Xsolla, Ubisoft, and Wargaming.